ConSensor's
competitive edge
Measurement data on web platform paired with ambient temperature data kept the concrete plant ready to modify the concrete mix
Easy access to real-time data on web platform that promotes communication and collaboration between contractors and ready-mix maker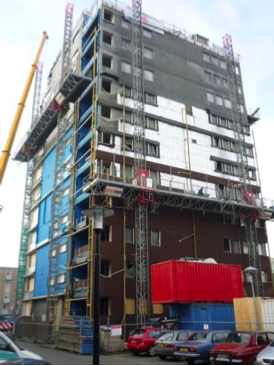 Tight site, tight timeline
Building the 12-storey apartment building De Koopman during winter on a very cramped site in Utrecht demanded careful coordination and effective logistics. Working with Gebr. Van Kessel Bouw and CascoBouw, EBC Beton and EBC building services deployed ConSensor's advanced technology to provide the necessary data for optimizing the logistics.
Pouring concrete in wintry conditions
Building in winter required the construction crew to gauge the ambient temperature as well as the concrete temperature as it cured. With the daily fluctuations in the ambient temperature, they had to adjust the concrete mix so that it would cure in time for the next delivery of concrete within the tight timeframes that the downtown location allowed.
Saving time, saving concrete, saving the planet
Timing is always important in construction, but it was crucial on this project. ConSensor monitored and recorded the hardening process on the web platform and alerted the foreman and EBC when the concrete reached a minimum force of 14N/mm2 to allow formwork removal. When the expected strength developed more slowly than planned, the ready-mix plant was able to modify the concrete mix so that the minimum hardening speed would be reached the next day. The continual adjustment to attain the optimal concrete mix reduced the amount of cement needed for the project and led to cost savings, too. The reduction in the amount of cement used also reduced CO2 emissions, resulting in more environmentally friendly construction.